A few cross-development-related questions about inverse printing.
On the ANSI and Generic Console, inverse printing goes like this (from the ansivt52.c sample):
Code: Select all
printf("%cpInverse On%cqInverse off\n",27,27);
1. Is there somewhere a list of those targets that support inverse printing and those that do not? Or, is there something like __INVERSE_PRINTING_AVAILABLE__ that we could check using "#if defined"?
2. If a system does not support inverse characters, shall we avoid printing the control characters \p and \q? Or should z88dk take care of this by not printing these characters? Currently, on some of these targets these unwanted characters appear and on some they don't.
3. If a target supports both the Generic and ANSI console, should the inverse printing behaviour be the same on both consoles? And if it is not (i.e. if it works only on one of them, or if control characters appear on one console but not on the other), is this a bug that we should report to the z88dk team?
Here is a list of targets that according to my tests support inverse printing:
Alphatronic PC
Bandai RX-78
Casio FP-1100 (*)
Casio PV-2000
Coleco
Laser 500
MC1000
NEC PC-6001 Mk2
Samsung SPC-1000
Sega SC-3000
Sony SMC-777
Sord M5
SVI
Tiki-100
Toshiba Pasopia 7
Z9001 (works with Generic Console, ANIS/VT100 shows control characters)
ZX81 (inverse printing using captial letters)
(*) The Casio FP-1100 ansivt52.c screenshot on the
wiki page
is outdated, here is a new one: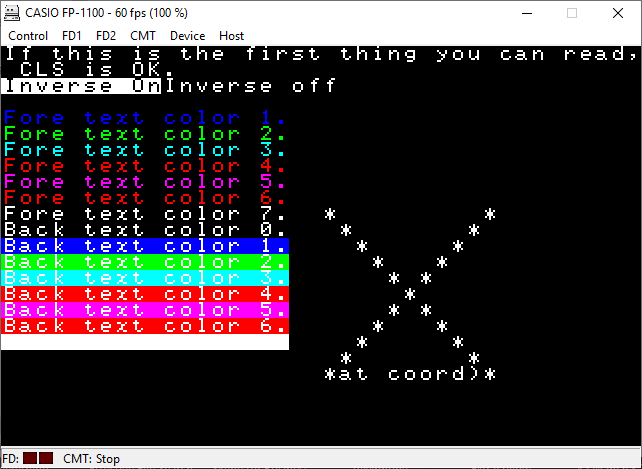 And according to my tests, these targets do not seem to support inverse printing:
ABC80
Aquarius
EG2000
Epson QX-10
Exidy Sorcerer
Galaksija
Jupiter Ace
Kaypro 83
Microbee
MSX
Nascom
NCR Decision Mate V
NEC PC-8001
Osborne 1
Otrona Attache
Philips P2000
Robotron Z1013
Sharp MZ2500
Sharp MZ700
Sharp X1
Super-80
TRS-80
VG5000
VZ200